Genre : Documentaire
Durée : 51mn 22s
Réalisateur : Serge Tigniиres et Ken Matsumoto
Date de sortie : 2001
Leau, source de vie universelle depuis les origines de lhumanité, est lélément qui sert а retracer, au travers de recherches scientifiques et historiques, lhistoire des grandes civilisations humaines. A Babylone, en Mésopotamie, lactuel Irak, les eaux de lEuphrate ont permis le développement progressif de la cité. La prospérité et la richesse de la ville étaient telles que les souverains ont édifié les monumentaux jardins suspendus, lune des sept merveilles du monde, qui ont eu des impacts historique et esthétique considérables dans lhistoire des civilisations.
Hébergeur: Depostfiles
Qualité :Tvrip
Format :DivX
Langue : Français
Sous-titre : Aucun
Type : Fichier Vidéo
Nombre de fichiers : 1 Fichiers
Taille des fichiers : 349 Mo
Taille totale : 349 Mo



Genre : Documentaire
Durée : 52mn 29s
Réalisateur : Catherine Bernstein
Date de sortie : 2012
Jean Zay, ministre de léducation nationale de Léon Blum, a été, en 1940, le premier condamné politique du régime de Pétain. Sa peine est volontairement la mкme que celle de Dreyfus : dégradation militaire et déportation а vie а lIle du Diable, effectuée en France а cause de lOccupation. Incarcéré pendant quarante mois а la maison darrкt de Riom, il disparaоt mystérieusement le 20 juin 1944.

Catherine Bernstein propose de partir sur les traces de cette disparition. Nous découvrirons petit а petit quil a été assassiné, les circonstances de son assassinat. Aprиs guerre, personne, et pour cause, ne revendiquera cet assassinat ignoble. La mémoire de cet homme, au destin tragiquement brisé, sera refoulée, tronquée, amenuisée. Son exécution illustre les mensonges, contre-mensonges, oublis volontaires ou involontaires quand il sagit de Vichy et de son rфle, ce qui nous pousse aujourdhui а nous interroger sur les mécanismes doccultation du passé.
Hébergeur: Depostfiles
Qualité :Tvrip
Format :XVID
Langue : Français
Sous-titre : Aucun
Type : Fichier Vidéo
Nombre de fichiers : 1 Fichiers
Taille des fichiers :750 Mo
Taille totale : 750 Mo



[ Dépendance а la Masturbation ]
Un documentaire intéressant.
Le sujet est la dépendance а la masturbation, thиme peu couvert а ma connaissance.
Nous suivons 2 hommes qui en souffrent tout au long du reportage. Nous approchons leur mal-кtre et leurs tentatives pour sen défaire.
Hébergeur: multi
Qualité : TVRiP
Format : XviD
Langue : Français
Sous-titre : Aucun
Type : Fichier Vidéo
Nombre de fichiers : 1 Fichiers
Taille des fichiers : 500 Mo
Taille totale :500Mo



(Ї`·._.·[ Special Investigation : Air France La Chute Libre ]·._.·ґЇ)
Réalisateur(s) :
Nicolas Bourgouin
Acteur(s) :
[/i]
Genre : [i]Documentaire
Durée :
55 Min
Date de sortie :
2012
Les connaisseurs la surnomment Air Chance. Un sobriquet qui en dit long sur la réputation de lune des plus importantes compagnies aériennes du monde: Air France. Tous les trois ans, depuis 2000, un crash. Des autorités de contrфle complaisantes. Des pilotes formés а la va-vite. Des commandants de bord sous pression. Pour étayer leurs allégations, François Nénin et Richard Puech produisent des témoins et des documents accablants, révélant ainsi les négligences de dirigeants plus intéressés par la rentabilité que par la sécurité, qui préfиrent incriminer lhumain plutфt que de remettre la technologie en question.

Le documentaire, а charge, fait froid dans le dos, le silence obstiné des patrons dAir France sur le sujet renforçant encore le malaise. Les vols low cost nayant pas non plus la cote, reste une solution: le pédalo.


Channel 4 - Dogging Tales (2013) 720p HDTV x264 AAC-MVGroup

English | 00:51:44| H264 | 1280x720 | 25.00fps 2608 Kbps | AAC 128 Kbps 24.0khz | 965MB

Genre:

Documentary

Many people have heard of dogging but very few know what goes on in this secretive world. This intimate and compelling True Stories film provides an insight into why men and women engage in or watch sexual activity in front of strangers in public areas, under the cover of darkness. Dogging Tales is directed by award-winning photographer Leo Maguire - who made his critically-acclaimed debut in 2012 with Gypsy Blood: True Stories. Interviews with doggers begin in the real world as their day draws to a close and they discuss their normal lives. As they go out they shed their daytime personas and Maguire accompanies them to lay-bys, woods and picnic spots around the UK that often double as dogging locations after dusk.


BBC - Soillse: Northern Passage (2013) PDTV x264 AAC-MVGroup

English | 00:54:05 | H264 | 832x468 | 25.00fps 1551 Kbps | AAC 128 Kbps 24.0khz | 599MB

Genre:

Documentary

Intrepid adventurers Borge Ousland and Thorleif Thorleifsson set out on board their trimaran Northern Passage to chart the dramatic changes that have taken place in the Arctic and to circumnavigate the North Pole in the course of a single summer.


Arte - The Amazon Code (2012) 720p HDTV x264 AC3-MVGroup

English | 00:52:01 | H264 | 1280x720 | 29.97fps 3420 Kbps | AC3 192 Kbps 48.0khz | 1.24 GiB

Genre:

Documentary

In a remote region of the Amazon live the last 300 members of the Piraha tribe. They have one of the strangest languages in the world: they have no words for colours and numbers, making it one of the hottest debates ever among linguists.In the 1970's, Christian missionary Daniel Everett first met the Piraha while exploring the Amazon basin. Everett was soon much less interested in Jesus than the people with whom he was now living. For 30 years, he attempted to understand the near indecipherable Piraha language - once described by the New Yorker as 'a profusion of songbirds', 'melodic chattering', and 'barely discernible as speech' - and re-invented himself as a linguist, grabbing headlines by challenging Noam Chomsky's theory of universal grammar.


Al-Jazeera World - Syria: The Reckoning (2013) PDTV x264 AAC-MVGroup

English | 2x~47min | H264 | 832x446 | 25.00fps 1499 Kbps | AAC 128 Kbps 24.0khz | 942MB

Genre:

Documentary

Since its independence from France in 1946, Syria has been rocked by periods of political instability. As the colonial hold of the great powers began to fade and the region witnessed a wave of Arab nationalism, Syria shifted through a succession of military coups. But in 1970, Hafez al-Assad, an ambitious minister of defense, seized control. Rising from a humble background in western Syria, he was to rule the country for 30 years. His was an autocratic one-party state in which any dissent was ruthlessly suppressed. Following the death of Hafez in 2000, father was succeeded by son - Bashar al-Assad took the reigns and a dynasty was born. In 2011, with the region in revolt, the al-Assad regime was challenged.This two-part documentary on the history of modern Syria provides deeper context to the ongoing war in the country. The film charts the rise of the Baath party and the emergence of the Assad political dynasty. Bedeviled by instability, Syria was to become a totalitarian state. Interviews with Syrian analysts, political figures and former army officers, intercut with archive, tell the story of Hafez al-Assads iron rule and his suppression of religious revivalism and popular will in the past. Yet these powerful grassroots and communal forces could not be stifled indefinitely.



Téléphonie: abus et arnaques

Telephonie.abus.et.arnaques.TvRip.DAKOR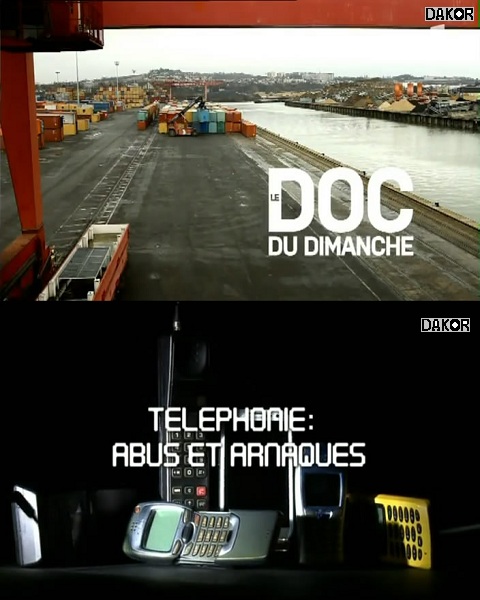 Genre : Documentaire - Culture Infos
Origine du Doc : France
Durée : 54 mn
En France, on compte 70 millions de mobiles.
Depuis larrivée des forfaits low cost, les opérateurs téléphoniques se livrent une guerre sans merci, dans laquelle tous les coups sont permis.
Cest souvent le consommateur qui en fait les frais. Réengagements abusifs, fausses promotions, surfacturation...
Le nombre de plaintes de clients ne cesse daugmenter.
La réalisatrice mиne lenquкte du point de vue du consommateur en évoquant notamment les escroqueries aux téléphones portables mises au point par les pirates de linformatique.
Hébergeur: Depositfiles / uploaded
Qualité : TVRip
Format : mkv
Langue : Français
Sous-titre : Aucun
Type : Fichier Vidéo
Nombre de fichiers : 1 Fichiers
Taille des fichiers : 325 Mo
Taille totale : 325 Mo


Flying Padre: An RKO-Pathe Screenliner (1951) 720p BluRay x264-CtrlHD
English | 00:08:37 | H264 | 874x720 | 23.98fps 7447 Kbps | Flac 437 Kbps 48.0khz | 458MB
Genre:
Documentary | Short
IMDB INFO
Two days in the life of priest Father Fred Stadtmuller whose New Mexico parish is so large he can only spread goodness and light among his flock with the aid of a mono-plane. The priestly pilot is seen dashing from one province to the next at the helm of his trusty Piper Club administering guidance (his plane, the Flying Padre) to unruly children, sermonizing at funerals and flying a sickly child and its mother to a hospital.